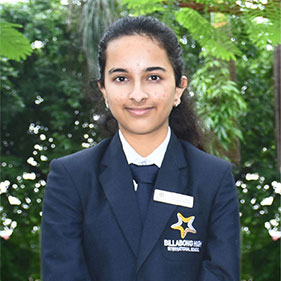 Being a part of the Editorial Board was surreal. When my name was called out for the post of Editor-in-chief, I could not believe it! I asked my friends - did they hear it too, was I being called on stage, if my name was even Ira! It is one of the greatest things to have ever happened to me.
Being the Editor-in-chief in itself was an immersive experience which offered me and my fellow members a lot of learning opportunities helping us gain the confidence to ideate, plan, delegate, execute and to meet and interview celebrities! What a memorable day it was to interact with Mr. Vinay Pathak and Ms. Megha Singh Parmar!
The newsletters have been an embodiment of our school's spirit, the curation of which could never have been possible without Ms. Noor (our Literary in-charge and mentor) and the rest of the team who guided and motivated us to deliver our best.
Due to the COVID-19 outbreak, our valedictory newsletter (April issue) could not be published but I am impressed with the way the new Editorial Board is collaborating and putting the newsletter together for us during these unprecedented times. I wish them good luck for the coming issues!
Ira Fatma Khan
Editor-in-chief (2019-20)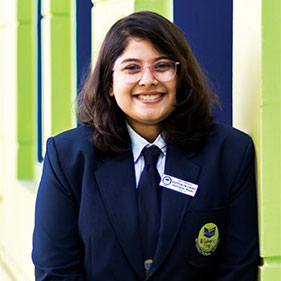 If an abstract noun existed that meant both a feeling of insurmountable awe and abundant affection, I would use it to describe how I felt about words. I save them all: little scraps of notes that friends passed on to me in class, doodles drawn on the torn corner of my Math textbook. In my penultimate year of senior secondary schooling, I had the honour of adding to my collection, my own edition of the BANG.
The Billabong Achievers News Gallery has always been a part of my memory, beginning as a thin pamphlet filled with short stories and poems from senior students. It expanded into this plethoric entity, encompassing art pieces, non-fiction articles, short stories, poems and as the name suggests - a bevy of achievers that made the Billabong name proud.
As the Editor-in-chief of the Editorial Board for the year 2018-19, I felt severe growing pains. I conscientiously believe that I learnt far more than I could have imparted in any way. I understood the importance of delegation, of owning up to my mistakes and realized that as the person in charge, the buck stopped with me. I have emerged from the experience a better editor, a more perceptive writer, a confident public speaker and a leader; knowing that the ultimate leadership quality is having faith in your team!
Arya Shukla
Editor-in-chief (2018-19)